Hey,
As a beginner in the digital marketing field back in 2019, I underestimated the importance of having a personal website that can be used for showcasing my work and learning.
And that is why my hunt for creating a personal website started, I knew that the real learning would come only by implementing everything I learn about digital marketing on my personal website, be it designing, SEO, article posting, and much more.
But, like any other new entrant in the field, I wanted to spend as little as possible at the initial stage. So I started to look for reasonable hosting options (tried even free ones, and I WARN YOU, never to trust the free hosting stuff, no matter how genuine it may look, but there's always a catch when you get something for free).
Instead, go for the most reasonable option out there to at least get started.
That's when I explored Hostinger. In India, the plans literally start from Rs. 69 per month. That's less than what a pizza would cost. Crazy right?
And that is why, after using their hosting services for the last 3 years, I want to write my detailed review which can also help you make an informed decision.
Here's a quick overview of what we'll be covering in this article:
Let's dive right in!
Is Hostinger worth the hype?
So there are a lot of hostinger reviews available on the internet that claim it to be one of the best out there.
To be frank, one of the main reasons I chose hostinger is because of its reasonable pricing, I didn't want to shell out a lot of money just to get my site up & running.
I started using it with the sole intention of just using it for my first year, and later when my site audience increases, I would migrate to another expensive hosting provider (Because of the typical mindset – Expensive is always better).
But, Hostinger sure did prove me wrong.
Their services are not only reasonable, but their user interface and setup process are also super easy, even a beginner would do it without any worries.
So yes, Hostinger is definitely worth the hype and definitely a huge savior for beginners (cost-wise as well as user experience). Highly recommended!
Let's look at the pros and cons now.
1. Budget-Friendly
The most attractive feature is definitely its pricing structure as compared to other hosting providers in the market right now.
Starting from just Rs. 69 per month is a steal deal. But there's a secret I would like you to know here. The longer you stay with Hostinger, the more discounted its price will be.
Let me help you understand this in simple terms, so their pricing structure is such, that if you buy the hosting for a longer duration of time, you will get it at a more discounted price. Please check out the image below:
If you buy for 1 month, it will cost you Rs. 399 (which I definitely DO NOT recommend, if you want to build a website to learn & experiment with stuff on it, a minimum of 12 months plan you should be buying).
This has multiple advantages if you buy 12 months plan, you'll save more, and further if you buy 48 months, the savings you make is crazy. Rs. 3,900 for 4 years of hosting? Count me in!
2. Faster Loading Time
Now, your next question would be – Ok Yash, if they're providing services for cheap rates, there has to be a catch and some compromise on the quality, what about the website loading time?
And guess what, there's no catch. Hostinger provides the best speed and uptime when it comes to any shared hosting.
Here's proof of that, my site loading time is 1 second only.
They also promise an uptime of 99.99% and it definitely stands true.
In the last 3 years ever since I started using their services, my site has never been down.
3. Free Domain
There are 2 things you need to get started with your website, a domain name and a host.
A domain name is the name of your website (like digidesai.com), it's a property that you need to purchase, no one else in the world can own it except you.
There are many platforms such as Godaddy, Namecheap, etc. through which you can buy a domain name for your site.
However, here's the amazing part, most of the hostinger plans include a free domain name that is included in your hosting package, no need to pay anything extra.
The free domain offer is only valid if you buy a 12, 24, or 48 months plan (I guess that's fine because as stated earlier we will anyway buy a 12-month plan for better learning).
4. Money-Back Guarantee
Now, this is the risk reduction part that Hostinger offers.
They have a 30-day money-back guarantee that means if you are not satisfied with their service for whatever reason, you can request for refund within 30 days of purchase and you'll get your money back.
Fair deal right?
5. Beginner-Friendly
The thing I liked about hostinger is that its basic feature as well includes all the things that any beginner would need while setting up hosting and website.
No technical stuff is involved whatsoever, right from choosing the plan to set up the content management system (like WordPress) the entire process is super easy.
In fact, I created an eBook on how you can create a website within 20 minutes, I have actually covered all the steps from choosing a plan to set up WordPress on your hosting, the process is smooth as silk.
The hPanel (or hostinger dashboard) also has a user-friendly interface.
There are 3 web hosting plans – Single, Premium, and Business.
And all these plans contain everything that you as a beginner would require to get started with.
I signed up for the premium web hosting plan that allows me to host 100 websites, has 100GB of storage capacity, free custom email, free SSL, free domain, unlimited bandwidth, and much more.
You can check out their plans here and choose one as per your requirements.
6. One-Click WordPress Install
There is a tool called "Auto Installer" that you can find in your Hostinger dashboard.
This allows you to easily install any CMS (such as WordPress) within a few minutes. The process as well is super smooth and easy.
Apart from WordPress, there are many other CMS that can be installed through this feature.
However, WordPress is, in my opinion, the best CMS to get started with as a beginner.
Fun fact: WordPress powers 39% of all websites on the Internet (as of 2021), the number must have surely grown now.
7. Free SSL certificate
If you own a website, you should have an SSL certificate.
It's not mandatory, however, it has become very necessary nowadays.
What exactly is an SSL certificate?
It encrypts your website visitors' data and keeps it safe.
The HTTPS version of your site and a lock symbol in the browser (refer to the image below) symbolize that your certificate has an SSL certificate.
Google also ranks the secure website better than the non-secure ones.
New age website users also prefer to surf on a website that is secure and another major advantage of an SSL certificate is, it protects your site, your data, and your visitor's data from online hacker attacks that are always ready to pounce on your site.
Stay safe, use an SSL certificate.
For other hosting providers, you might need to purchase the SSL certificate separately.
But with Hostinger, you get it for free with all of their hosting plans. (Yet another very good reason why you should prefer Hostinger for your hosting needs)
8. All-Inclusive Knowledge Base
Although the process is super easy, you might get stuck sometimes, and need help!
In that case, their knowledge base comes in handy. Whatever your query is, just put it in the search bar and you'll find help documents with resources and videos to get a solution for your query.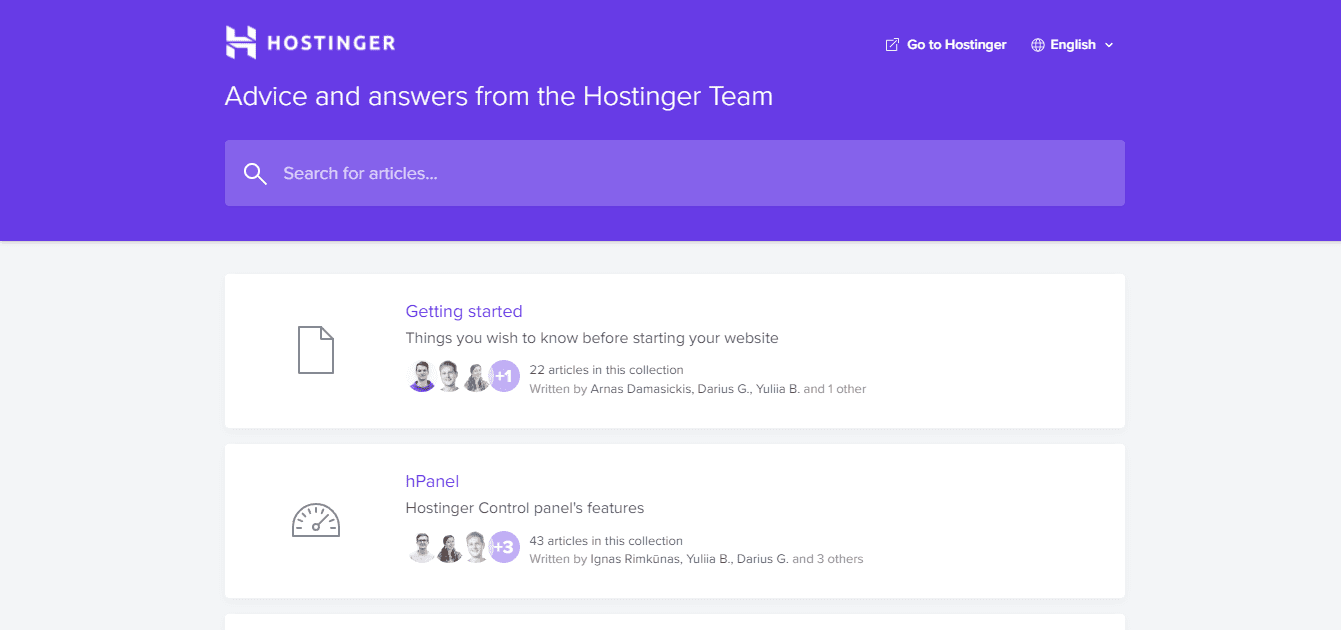 1. Limited features on budget plans
Now here's the catch, however, I don't think it will be a deal-breaker (especially if you're a beginner).
The introductory plans lack features such as limited disk space (only 50GB in single hosting as compared to 100GB in premium and 200GB in business hosting). However, the good news here is – if you're just starting out and creating a website, your website won't require much space either.
But, another major drawback I observed in the single hosting plan is – You do not get a free domain (which you do in premium and business hosting plans). This is a bummer because in this case, you will have to buy a domain name separately.
And that is why I would recommend you to go with the premium hosting plan only, it is well within range (as compared to the competition in the market) and also fulfills all your needs of hosting to get started with.
2. Lacks Immediate Customer Support
The only immediate support you have at hand is the live chat support, they might take some time (probably hours to get back with a solution).
No phone call support is provided. You do have the email support but that again takes time to reply and get your issue resolved.
However, the good news is – You won't face many issues as the process and platform are smooth.
Personally speaking, I have connected with the support team just once in the last 3 years over a very simple issue, it took hours for them to reply, but my query was solved on the same day.
Plans & Pricing of hostinger
As already discussed above in this article, there are mainly 3 web hosting plans provided by hostinger – Single, Premium, and Business. Below are the main differentiating factors between them. (The data below is captured on February 20, 2023)
*Prices with a 48-month plan as of 20th February 2023
There are various other plans as well that Hostinger provides such as WordPress hosting, cloud hosting, etc. You can check their latest plans from here.
Now it's time for the final word.
Should you go to Hostinger for your hosting needs or not?
In my opinion, if you're someone who wants to experiment with learning website creation at reasonable costs then there is no better option available out there other than Hostinger.
Now I want to hear your views
If you are planning to invest in Hostinger and have any questions about it, let me know in the comments section below, I will reply to each and every comment.
Or if you're an existing Hostinger user, let me know your experience as well in the comments section below.