Hi!
I am Yash Desai, an MBA (Marketing) graduate by Education, Digital Marketer by Profession, and a Blogger by Passion. 
I have been in the digital marketing industry since 2019.
At present, I am working as Digital Marketing Executive at LearnToday.com in Bangalore founded by my mentor and a top name in the digital marketing industry – Deepak Kanakaraju. 
I am NOT a digital marketing expert. However, I have the passion to keep exploring this field and learn something new every single day. 
And through DigiDesai.com, my aim is to share this knowledge with you in the form of
My dream is to make DigiDesai.com the #1 blog for digital marketing beginners someday. 
That's about it for a crisp introduction. If you're eager to know more about me and my digital marketing journey so far, continue reading…
Back in 2019 when I completed my MBA (Marketing) degree, I already had a campus-placed job offer in hand to work as a marketing executive in a plastic manufacturing company. 
But, I chose not to join that and pursue further studies in the digital marketing field.
Being a complete newbie, I had no idea where and how to start. 
So, I started hunting for free certifications to learn on the Internet, and also searching for some digital marketing institute that could guide me. 
Completed certain online free certifications and joined a 3-month digital marketing course in Bangalore, India.
This experience gave me a brief idea about the field and its components. 
However, I still had no job or an internship after completing the above stuff. 
I continued self-learning, completed more online certifications, and applied for introductory roles in companies to get some industry experience, however, could not find my perfect match when it came to a job. 
One of the many preconceptions that digital marketing beginners have is they could start making money online (easy money) as soon as they complete a certification or course. 
I had the same preconception, but this job hunt period went on for 4 months and the dream of living a luxurious life making money online started fading away. 
However, in February 2020 finally got a job to be a part of the Digital Strategy and Communications team at Luthra Group of Companies in Surat, India. 
My role at the company included:
Setting up the company's presence on the Internet through website designing (in WordPress).
Develop & maintain the social media activities of the company pages on Facebook, LinkedIn, Twitter, and Instagram.
Search engine optimization of the company websites.
The first job is always special, I loved working at the Luthra group of companies.
However, after a few months, the horrifying pandemic hit the world, and because of this I had to leave my job due to personal reasons and returned back to my hometown.
And that's when my life and career as a digital marketer took a crazy transformational turn. 
Received an email from Deepak sir regarding the 4th batch of his Internship Program, a unique digital marketing training program that pays you to learn.
If it came from a random person I would have ignored it, but it was from Deepak Kanakaraju, who has good credibility in this industry. 
So filled the application form, and joined the program and that's when in week 4 website creation week, DigiDesai.com was born.
They actually paid back the money they took as a deposit for doing weekly assignments. 
My blog, YouTube channel, email list, my current job, and many more things I have achieved only because of this program. 
Currently, I work along with Deepak sir to help more people benefit from this program, what a turnaround that has been in my career. 
The two most important things I learned in my journey so far are:
1. Digital marketing learning without implementation is useless.
2. It is tough to make ethical money on the internet, I got my first ever affiliate commission after putting in efforts for 1.5 years.
And that is why
at DigiDesai.com you will find: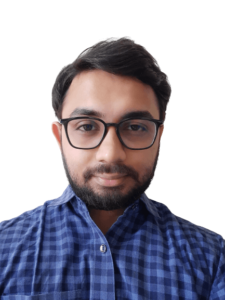 THAT'S ALL ABOUT ME
Now I wish to hear about your journey and if there is anything I can do to help you in it.
Feel free to connect with me over social media, I'd love to have a chat with you.