Hello!
As a content writer or a blogger, I am sure you must have faced writer's block at least once in your life.
And one of the biggest challenges that we face is what topic to write on?
Is that topic relevant for my readers?
Has anyone else covered the topic on the Internet already?
If yes, How can I make my article stand out?
If you have any one (or all) of the questions in your mind, then this article is for you.
It consists of 5 amazing yet unusual ways through which you can easily find a great blog topic idea for your next article.
Here's what we'll be covering in this article:
Let's dive right in.
1. 'Look Inside' feature on Amazon
The first one on the list is Amazon, yes the online shopping giant.
Now you'll be wondering – "Ok Yash, show me how it works"
So here's how it does:
First, search for a keyword relevant to your niche and select 'Books' in the Amazon search bar.
As a live example for this article, let us assume our niche is 'Blogging'.
And following are the results for the same.
Select a book that has more ratings and reviews (meaning it is purchased by more people)
We'll select the first one.
Go to the product page.
And finally, click on 'Look Inside' to see the table of contents of that book.
Now you get a list of ready-made blog topic ideas on which you can write your next blog post.
From this table of contents, the following blog topic ideas can be generated:
Blogging Basics To Understand Before You Start Your Blog

What Is Niche Blogging

How To Set Up A Business Blog

How To Find The Right Blogging Application For You

Top Blogging Tools That Will Ease Your Blogging Journey
These are just a few of many.
You can find more by exploring other books as well on Amazon.
Isn't this amazing?
If you're amazed by this, wait for the next section, this article only gets better from here on, brace yourself.
2. Courses and Categories on Udemy
Udemy is a popular online course platform.
But did you know, it is also a secret source from where you can get amazing blog ideas?
Let's see how.
You can search for a relevant keyword in your niche directly, again, let us search for 'Blogging'.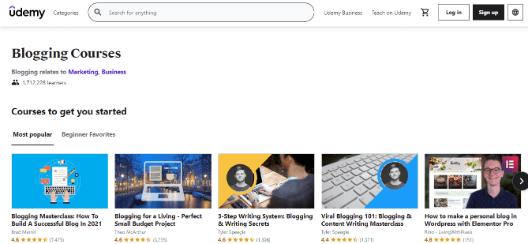 And within seconds, you have a readymade list of topics:
How To Build A Successful Blog In 2021

3-Step Blogging and Writing Formula

How To Make A Personal Blog In WordPress
Alternatively,
You can also search for courses based on categories.
Be it any niche, I am sure you can get tonnes of blog ideas from Udemy.
That being said, let's move on to our new blog idea source..
3. Conferences in your niche
This is probably one of the best hacks to find a proven blog topic idea.
An idea that people are paying money to learn more about.
First, go to a conference website in your niche.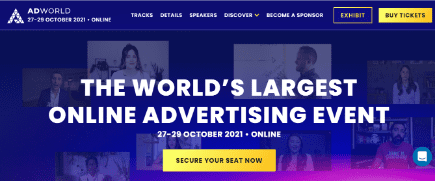 Next, go to their Events/Schedule/Agenda page or just scroll around and try to find the events that will be a part of the conference.
Once you find it, these will be your ready-made blog topic ideas (that people are actually paying to learn more about).
Here are the events that will be a part of the conference in the above example.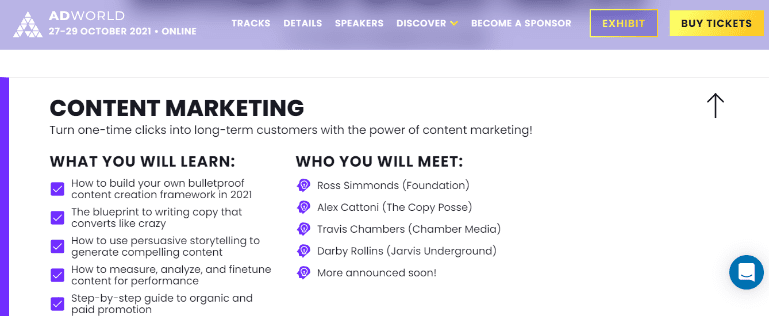 From the 'WHAT YOU WILL LEARN' section (in the above image), I can think of the following blog topics:
How To Write A Copy That Sells Like Crazy?

Top 6 Methods To Build A Proven Content Creation Framework

How To Create Compelling Content Using Persuasive Storytelling?
4. Quora
Quora has become my all-time favorite tool now whenever I wish to explore anything, literally anything.
It has answers to almost all questions you might have.
The popular Q&A website can also be a goldmine for you when it comes to hunting blog ideas.
Let me show you how you can do this.
Let's continue our example of blogging.
Go to Quora and in the search box on the top, enter "Blogging"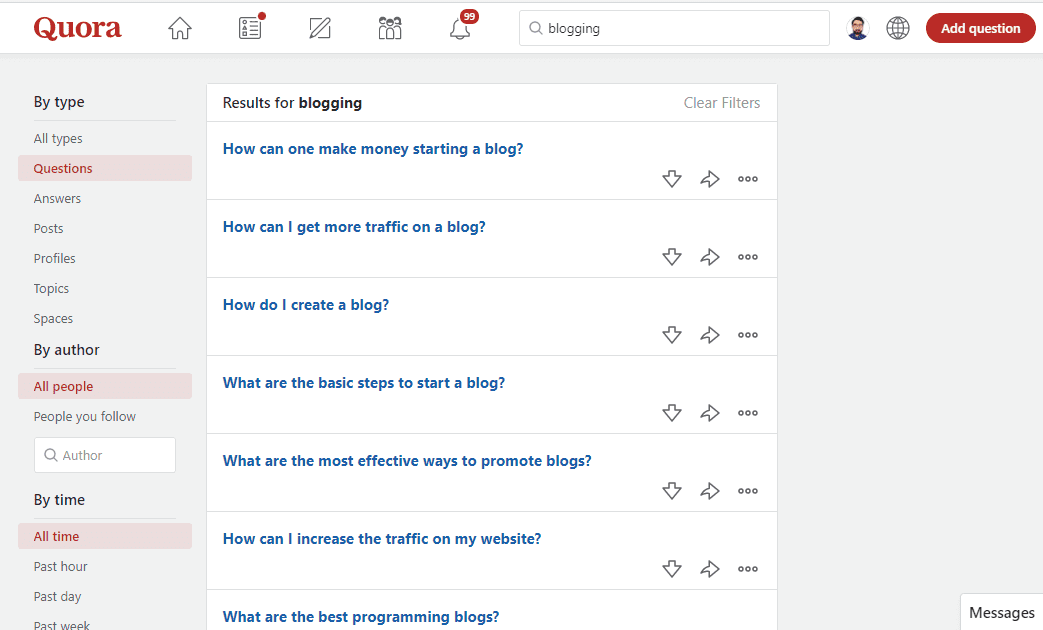 And here you get tonnes of results.
Filter it by Questions from the left sidebar and there you get ready-made blog post ideas to ponder over.
From the above image itself I can think of 3 powerful blog ideas:
How To Earn Money With A Blog

7 Ways To Get More Traffic On A Blog

Building A Blog From Scratch in 2021: Ultimate Guide
In fact, you can do in-depth research by selecting a particular question and go through the various answers for the same.
You will not only get more ideas but also understand what the readers are expecting from such questions.
Talking about questions, how can we forget our lifesaver – Google..
5. 'People also ask' section on Google
The final method in this article to find proven blog topic ideas is from our favorite search engine – Google.
Google has a 'People also ask' section that is displayed on the results page, it shows similar questions that match your search query.
Let us understand this with an example.
Let's say you're into the content marketing niche and you simply search 'best content marketing tools' on Google.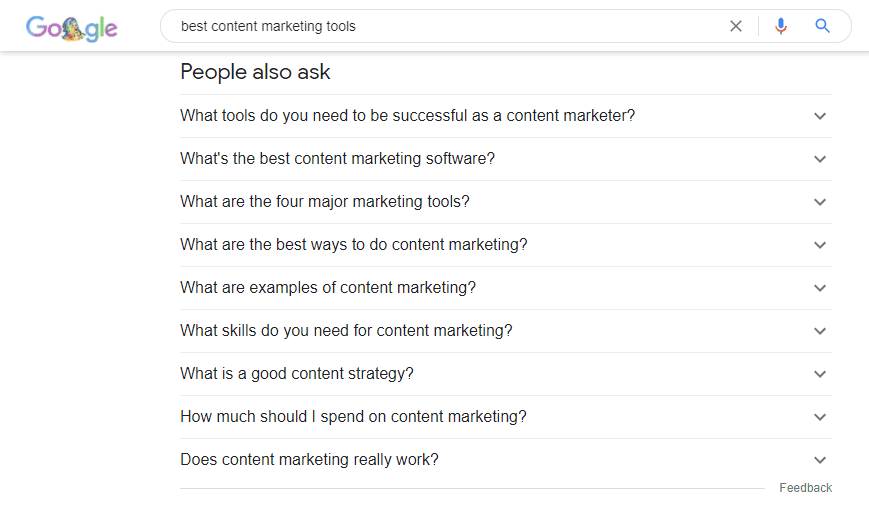 Among the search results, we can see this 'People also ask' section.
The questions in this section can help you in your blog idea research.
From the above screenshot, I can think of the following blog topics:
7 Must-Use Tools To Help You Become A Top Content Marketer

What Are The Best Ways To Do Content Marketing?

6 Essential Skills Required For Effective Content Marketing
Now It's Your Turn
I hope this article showed you some amazing and unusual ways to find a proven blog topic idea.
Now I would like to hear from you.
Which method are you going to try first?
Will you use Amazon look inside feature? Or maybe you will conduct deep research on Quora.
Or maybe you have a question about something you read.
Either way, let me know by leaving a comment below right now.